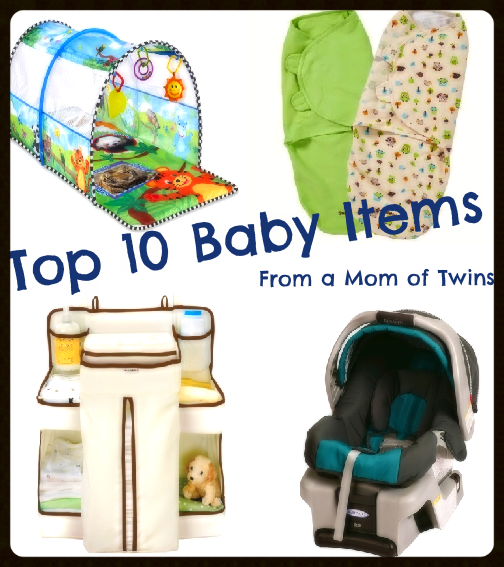 Don't forget to
follow me on Facebook
so that you never miss a post from Oh.em.gee it's Nikkie!
My
3 Awesome Baby Shower Gifts
blog post has so far been my
most successful
post! It's actually one of my favorites as well,
so you all have good taste, clearly.
Since it was
so
popular, I decided to take it to the next level -
our top 10 favorite baby items.
Keep in mind, this is coming from a mom of twins but a lot of this can be applicable to your singleton as well, with just a few minor adjustments - primarily buying just one of something or a single instead of a double.
Duh.
So what are our 10
most favoritest
baby items thus far? Let's count back from number 10 to our favorite (
SPOILER ALERT
: it's the Wubbanubs, still!)
10.
Bright Starts Lots of Links
: These things are
good for pretty much anything
in the boys' room. We clip toys to their car seats, swings, jungle tunnel, other toys... they're pretty much always in use. They were the first "toys" the boys were able to play with as well since they are easy for little hands to grasp. Now they just grab them and stuff them in their mouths at
every.possible.chance.
9.
Gerber Rice/Oatmeal Cereal:
If you read my
sleep training twins
and
The Great Controversy
posts, you already know why we love this stuff.
It's inexpensive.
It comes in great flavors. It's helped our babies' tummies stay full throughout the night. Do I really need anymore reasons to love this stuff?
8.
Cosco Flat Fold High Chair
: These were only $26.00 each! The table top high chairs that I initially wanted were
double
the price and would not grow with the babies as well so that idea got the boot as soon as I found these. They come in lots of different prints but we purchased two of the
Chevron Lime
prints and they are
super cute
and neutral enough to match our kitchen... which also happens to be primarily browns and greens!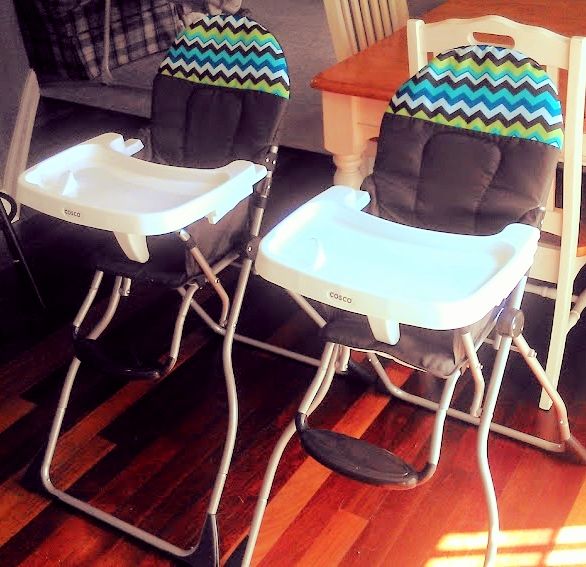 The fabric pattern doesn't quite line up... but it doesn't bother me!
7.
Munchkin Diaper Change Organizer
:
I wasn't really sure that I wanted one of these
but I figured I would put in on our registry anyway. Now I'm
super glad
that I did as
we use it, oh, all the time.
I keep diapers, wipes, lotions, nail clippers, burp clothes, gripe water, binkies, you name it... it's in this organizer and it hangs right next to our changing table.
Super convenient. Super inexpensive.
This would be a great baby shower gift with some diapers, wipes or bath time items!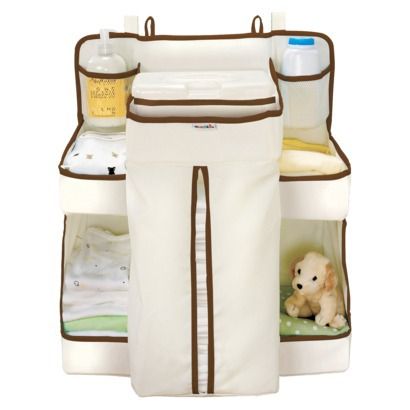 6.
Graco Classic Connect 30 Infant Car Seat
: You have to have a car seat so why not have a cute one? And one that's so easy to put in the car because it
just snaps into a base.
Considering I have to pack the kids up quite a bit,
and there's 2 of them,
this car seat saves me so much time that I would spend buckling and strapping car seats in. Now I just put them on the base and the click in place and we go.
Easy enough for me!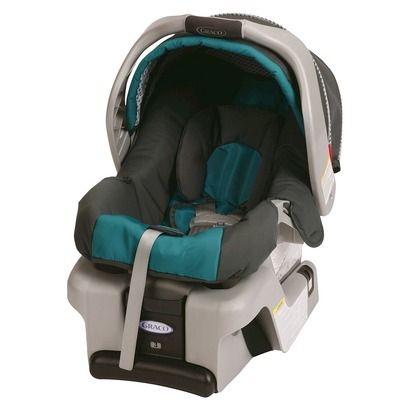 In real life, it's covered with warning labels and stickers that you can't remove :-(
5.
Graco DuoGlider Classic Connect Stroller
: This stroller is great in conjunction with the car seats we have - the car seats (once again)
just snap into the stroller
! So until the babies can sit up without falling to the side -
we're still not at that point
- it can be used with their car seats. After that it can be used as a regular stroller! They have this in a singleton version too, for you people with the strange phenomena of having just one baby.
Weird.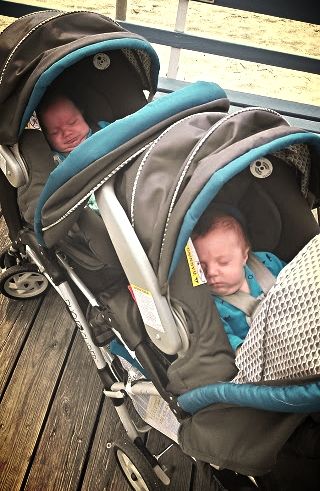 Boys' first trip to the boardwalk - possibly an Oliver pooping face, too!
4.
Baby Einstein 2-in-1 Safari Adventure Gym and Tunnel
: If Emmett and Oliver were writing this list,
this item would be number one.
Actually, there might not be any other items on the list. Except for their Wubbanubs. They love their binks. And their bottles. But this item would still be number one.The plastic rings (see above) clip on to both ends of this and you can hang practically any toy from it for them to kick and bat at. They've been "playing" in this tunnel since about 6 weeks but now they really go crazy for it.
3.
Fisher-Price Papasan Cradle Swing
: This is not your average baby swing.
It's like a super deluxe baby swing on crack.
You can just forget all other swings
. We purchased one off of a Facebook yard sale group for only $30 and my cousin gave us a hand-me-down one for free. This swing goes in 2 directions, has a mirror-type thing that baby can see his reflection in and a moving mobile. It runs on D batteries but they last a good, long time. The neutral color fits in perfectly with our living room, too!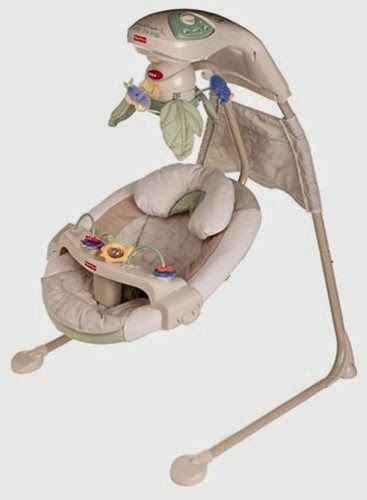 2.
Summer Infant SwaddleMe Swaddlers
: Why are these so special? I'm glad you asked! First, they come in adorable colors and patterns but that is only the most superficial reason I
loveeee
them. They Velcro closed in all the right places so babies really have to work to wiggle out of them. These swaddlers saved me so much time! Even if you are a professional baby swaddler, you still can't beat these. And multiply that by two babies, several times a night and that is a
HUGE
chunk of time saved.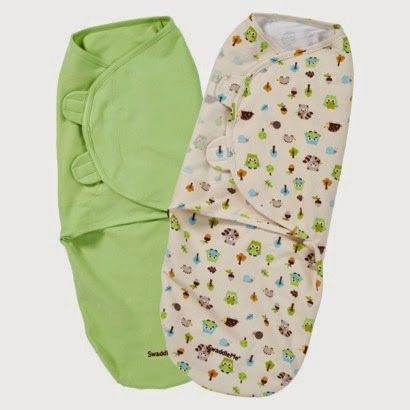 They have adorable prints and patterns!
1.
Wubbanub: the hug-able pacifier!
This is BY FAR my favorite baby item EVER.
There is nothing more annoying than giving your baby a pacifier, going downstairs and before your feet even make it to the bottom stair, hearing your baby crying because his bink fell out.
Again. And again. And again. Times two, if you have twins-ies
! At first, we had to tuck the pacifier into their blankets or arms to help them keep a hold of it, but now at 13 weeks they can hug the stuffed animal themselves. And they come in
so. many. animals.
We have the blue dinosaur and a patterned monkey. Oh and did I mention??? It is
nearly impossible to lose them
because they are attached to the stuffed animal!
Oliver could be a Wubbanub model!
Unsure where to start your baby registry list?
I would just copy everything from this list straight on to your registry.
Seriously. It'll save you time and headaches because there is so much stuff out there to choose from!
You can also
set up a baby registry through Amazon.com
-
so many choices
!
AND
you can put items from other sites on it so everything is all in one place. It's great for putting those
precious Etsy finds
onto a baby registry - that one thing from Babies R Us - and a lot more choices than just registering through Target alone. Give it a try!
(You can also set up birthday/holiday wishlists for yourself and/or baby, too!)
Honorable mentions:
Evenflo Exersaucer - Life in the Amazon Triple Fun Saucer
,
Graco Pack'N Play
,
Baby Bullet Baby Food Maker
,
The Baby and Toddler Cookbook
, and the
Boppy Nursing Pillow
What items would make your top 10?