Disclaimer:
I got
really
excited when I was done cooking and forgot to take a picture of this dish! So while you will not see the finished product, you can rest easy knowing that it
probably looked delicious
. Since I ate it. All. Before taking a picture. Again, I am
so
sorry!
My husband does not like Italian food. I'm pretty sure his family never ate Italian food when he was growing up and now
he just doesn't understand how good pasta is
. Especially with veggies. I don't think his family made him eat veggies either. Every once in a while I just can't help it.
I crave pasta.
Really good pasta
. In fact, this week I was craving Italian food so badly, I planned our entire week's meals around it. Italian everyday!!!
Italian Sausage Pasta with Peppers and Onions

I guess this is an appropriate place for a second disclaimer... I don't measure things. For some reason, measuring while cooking really irritates me and throws me out of the cooking groove. I'm pretty sure the only things I measure are baking powder and baking soda because if you mess that up, you're screwed! So this recipe has vague estimates --- use your imagination and do what feels right!
Ingredients:
1 lb penne pasta
3 Italian sausage links (mild, sweet, hot, whatever you like!)
1 green pepper
1/2 white onion
1/2 pint of cherry tomatoes
2 cloves of garlic
Pinch of Italian seasonings, red pepper flakes, etc Again, whatever you like!
1 jar spaghetti sauce
1 heaping tablespoon of pesto (I use jarred - ain't nobody got time for fresh pesto right now!)
Grated Parmesan cheese
Now here is where it gets really fun! Chop all of your veggies (we call this prep work!) Cook your pasta and set aside. De-case (is that a thing?) your sausage links and throw the sausage, veggies, minced garlic, and seasonings into a large skillet.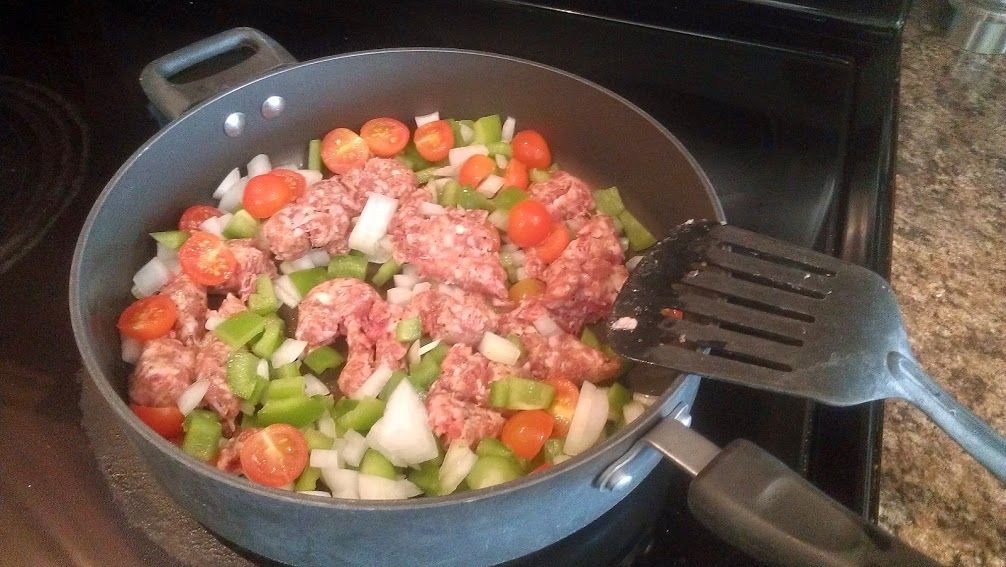 Chop up the sausage while it's cooking and stir and cook until meat is done and veggies are cooked. Add pasta to the sausage and veggies then add the spaghetti sauce and pesto. Stir until combined and let simmer for a few minutes for the flavors to combine. Dish up and top with Parmesan cheese.
Now can you understand how I forgot to take a photo of the finished product?
I thought so.
Don't judge me!
** Disclosure