Fisher-Price Laugh and Learn Puppy and Friends Learning Table
We received this toy as a gift right after the babies were born. To be
quite honest
, it's one of only a handful of toys that we have that requires batteries. Aside from the Exersaucers and one other toy, we have a household full of wooden or non-electronic toys.
YAY US!
Wooden toys have their place, and I love them as much as the boys do. But they really love this toy. It sings, beeps, lights up, makes all sorts of loud, obnoxious noises and just generally gets these 20 second-long children's songs stuck in your head.
When we first received it, I considered exchanging it for something that was not electronic.
Ain't nobody got time for that
though, so I begrudgingly gave in and opened it.
It's pretty awesome.
For the first 8 or so weeks, it sat in the closet. But as soon as the boys started to develop their neck muscles and could hold their heads up a bit for tummy time, I collapsed it down on 2 legs so that they were able to see and occasionally touch a few buttons.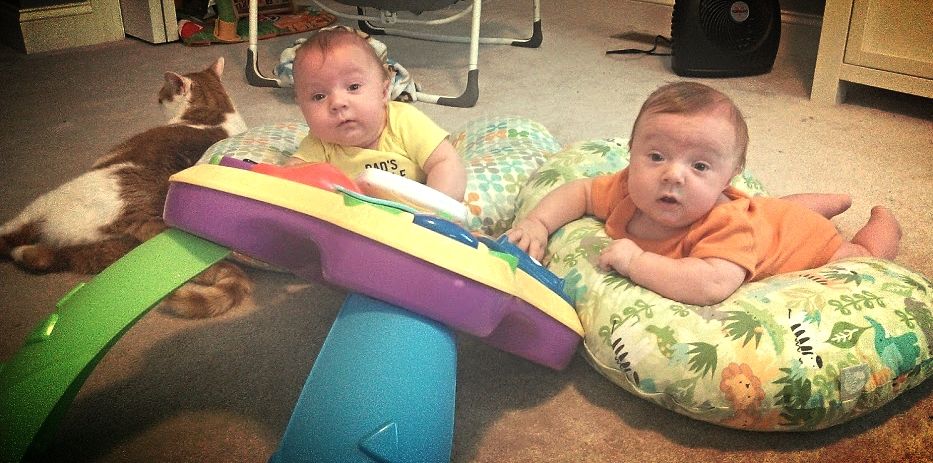 A few months old and learning Spanish already!
Around 5-6 months they were able to use it sitting up...
"MOST EXCITING TOY EVER!" -Oliver
Now, at 8 months, they are just starting to stand and cruise around it to the different areas. Or just stand up and scream at each other because they are so proud of themselves.
Features:
ABC's, colors, shapes
Spanish mode
Musical mode - all of these songs are now engraved into my memory
Playtime (computer sounds, piano, just general noises)
A few CONS:
It's loud. Babies are loud. This toy is louder.
It comes with a little blue phone (not pictured in my photos, but it is in the photo at the top of this post) but it is not attached to the toy so it's ALWAYS MISSING.
The legs are really hard to take on and off... but you shouldn't have to do that too often.
This toy would make a
great Christmas
gift for baby - not necessarily a baby shower gift though as it is
not essential
and they
can't use it for a while
. Bonus points if you can find one for cheap at a yard sale on online yard sale!
Need additional Christmas present ideas? Check
out these posts and product reviews!
---
Top 10 Baby Items from a Mom of Twins
---
Munchkin Fresh Food Feeders
---
3 Awesome Baby Shower Gift Ideas
(or Christmas presents for a new baby!)
Follow Oh.em.gee it's Nikkie on Facebook for more product reviews!