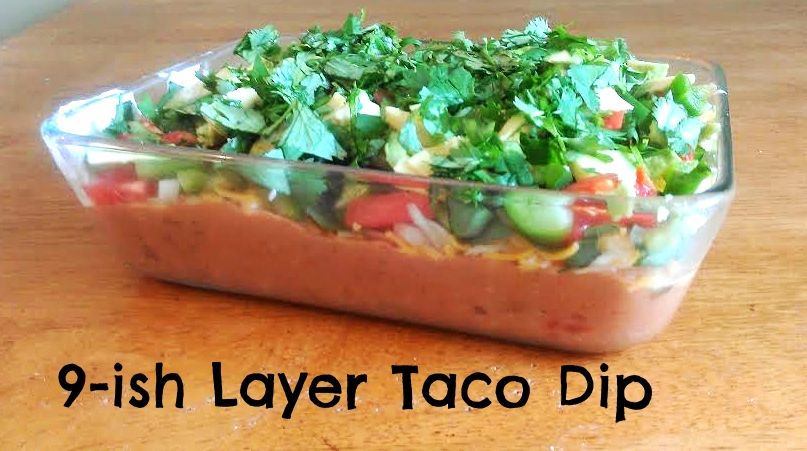 Follow me on Pinterest for more delicious recipes!
So, if we're being
technical
here, this is actually more of a 9-layer Taco Dip instead of your traditional 7 layer.
Why not?
I wanted a mexican-type dish to take to a party
(my birthday party, to be precise)
and I wanted to make something new so... this is what I came up with! After reading through
about 5 different 7-layer dip recipes
and taking inventory of the ingredients I had on hand, I now present to you the
9-ish layer dip
. The -ish comes about because you could combine some of these ingredients to make a salsa or guacamole and use them in that fashion. But I didn't,
because this was easier.
This dip is served cool or room temperature - you don't want to heat this after it is prepared because it will wilt your lettuce and crisp veggies - plus, it's an extra step you don't need to take.


If you only take away one thing from this recipe to use in your own rendition of a 7-layer dip, please make it this: for the LOVE OF GOD do not just open a can of re-fried beans and put them on a platter. PLEASE. Thanks in advance. Life lesson: cold, straight out of a can re-fried beans are not something you want to serve at a party. I'll go as far as to say your friends will hate you. They may even leave. And then you don't have a party anymore. And you won't have any dip because they will burn it. Slightly dramatic? Maybe. But you have been warned.
9-ish Layer Taco Dip


Ingredients:
1 can re-fried beans
1/2 jar of salsa
1 tsp of cumin
6 oz sour cream
1 cup taco blend cheese
1/4 diced white onion
Handful (very precise measurement) of shredded romaine lettuce
1 diced tomato (if you don't have any ripe, home-grown ones available, store-bought will do. Silly Ina Garten.)
1/2 diced green pepper
1 diced avocado
Handful of chopped cilanto
Instructions:
1.
DO NOT SKIP THIS STEP.
See the above reasons for why you need to do this. Heat your canned, re-fried beans over medium heat. Add 1/2 jar of salsa and the cumin. Stir and heat through.
This will transform your beans.
People may even question if you made them yourself.
2. Spread beans on the bottom layer of whatever serving dish/tray you want to use. Top with the sour cream. Spread the mexican blend cheese on top. Add diced onion, tomato, green pepper in any order you want.
Go crazy. Let loose.
3. Top with shredded lettuce, avocado and cilantro. Cover and refrigerate until chilled or serve immediately with tortilla chips.