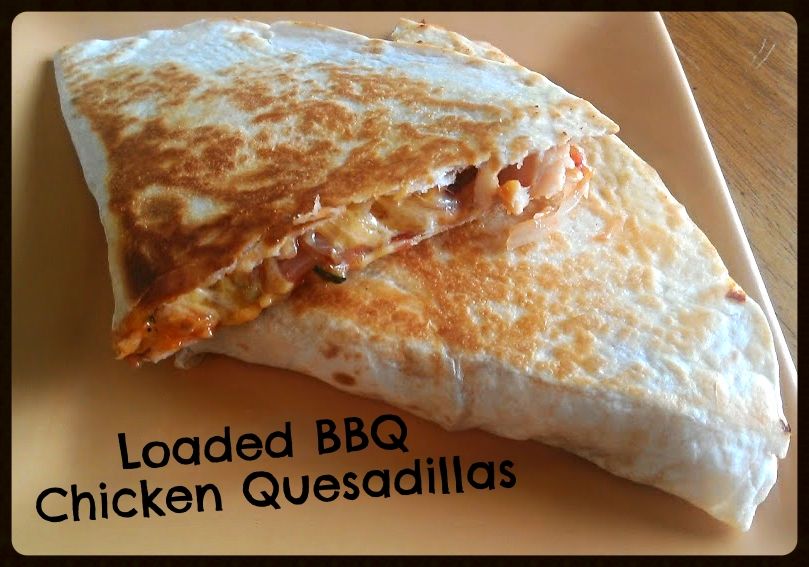 I'm always trying to sneak vegetables into Andy. It's been working out in my favor for years now - some of the time he doesn't even realize it. Sometimes he has a feeling that he's eating vegetables but he doesn't know how I got them in there. Sometimes he can just plain see them. Since he's the pickier eater (I don't like to use that word in this household... the boys WILL NOT be picky eaters. I refuse!) I like to start with a dish that I know he likes. Then I figure out a way to make it healthier - add vegetables, lower the sodium, sneak in some whole grains or Greek yogurt. The usual.
Today I started out with a BBQ Chicken Quesadilla. Can't complain there, right? Well, in getting out the ingredients to make said quesadillas, I came across some fresh foods in the fridge that really needed to be used. I hate it when fresh stuff goes to waste. In essence, this recipe came about as a way to clean out my fridge. But the results were quite delicious. The original quesadilla would have been fine, but I made a gourmet, flavor punched up version that Andy couldn't even complain about. How many vegetables can I fit into one quesadilla? Challenge accepted.
Loaded BBQ Chicken Quesadillas
(makes 2)
Ingredients:
2 twelve inch flour tortillas
1 chicken breast, cut into bite-size pieces
1/4 of a white onion, cut into thin strips
1/4 cup of zucchini, shredded or diced into small pieces
1 Roma tomato, diced
1 jalepeno, finely diced
Handful (very precise!) of cilantro, roughly chopped
Favorite BBQ sauce
1 cup of shredded cheddar cheese (could also use pepper jack, Mexican blend, anything really!)
1 tablespoon butter or margarine
Instructions:
1. Saute chicken, onion and zucchini for about 7 minutes or until chicken is fully cooked and onions have started to brown. Add the tomato, cilantro and jalepeno. Cook until hot.
So many veggies!
2. Divide mixture equally between two tortillas. Add desired amount of BBQ sauce on top. Evenly divide the cheese. Fold in half.
3. Add small amount of butter or margarine to a griddle. Cook quesadilla until golden brown. Flip and cook until the other side is golden brown. Set aside on a plate to cool for a moment before cutting (cheese, sauce and goodness need to set or the fillings will all spill out) Cut in half and enjoy!