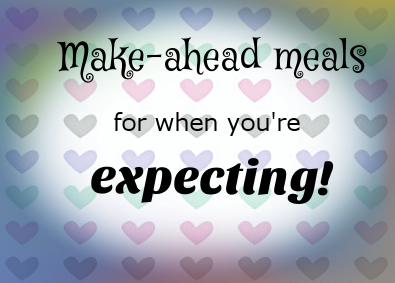 One of the smartest things I did while pregnant was think ahead.
About food.
Because I'm almost always thinking about food anyway. When would I have time to cook once the babies were here?
Would we starve?
Would Andy cook all the time?
Nope nope nope!
We were going to have a freezer stash full of healthy and already prepared foods -
I was determined!
I made sure to look up recipes and make my grocery list
well ahead of time
although I didn't actually cook everything and assemble the freezer meals until about a month beforehand. I was
somewhat
afraid I would eat it all and then have to start from square one. It's something I would
definitely
do -
I know me pretty well!
I knew that it would be a
weird transition
for me to be home at nights and needing to have food figured out for when Andy got home from work. My work schedule has
always
been evenings so dinner every day of the week is just
something I've never done
. You can't eat pizza every night! Or can you?
I chose 5 recipes to cook/assemble and it took us about 3 months to use up all of the freezer food. Now I'm starting to make some of the recipes again to have on hand for busy weeks. Andy even
requested
some of them so you know
they were a hit!
1.
Slow Cooker Cheesy Chicken and Rice
I had made this recipe before and knew that I wanted it on my list right from the beginning.
It's easy
, filling and has a lot of protein, which you need as a preggy person and probably after being preggy as well. It makes
a lot
of food which I then put into individual meal containers and froze.
2.
Pasta Fagioli Soup
(an Olive Garden copycat - Recipe below!) My mom has made this
for years
and I got the recipe from her. I have no idea where she found it but it is
IDENTICAL
to the soup they serve at Olive Garden. Once again, it makes a
huge
batch. I filled Ziploc quart sized bags with the cooled soup and froze (laying flat in the freezer so they didn't take up much room)
3.
White Chicken Chili
This is the recipe I wasn't
too fond
of. I'm not sure if it was just because it was frozen or if it's
just not as good
as the recipe that's been hanging around my family for years but I would skip this one next time (Ha! Next time!...
NO
.)
Love the serving suggestion... tortilla chips, sour cream and cilantro! Yum!
4.
Crock Pot BBQ Chicken
(served over white rice) This recipe is nice because you
literally
throw all of the ingredients into a Ziploc bag and freeze for the prep! When it comes time to cook, you pull it out of the freezer the night before and then dump in the crock pot in the morning.
Hot, delicious meals ready without any fuss.
5.
Crock Pot Teriyaki Chicken
(served over white rice) Equally as delicious as the BBQ chicken and just as easy. This was Andy's
favorite
out of the make-ahead meals!
So easy! Follow me on Pinterest for more easy meals!
In hind-sight, I would
double the amount
for the BBQ Chicken and Teriyaki Chicken recipes because they were
SO easy
and now I'm hungry for them again!
Start planning your make-ahead and freezer stash meals early -
you never know if your babies will be early
(like mine!) You
WILL
be hungry, and
probably exhausted too!
Olive Garden Pasta Fagioli
Ingredients:
1/2 cup water, divided
1 lb extra lean ground beef
1 cup onion chopped
1 cup carrots slivered
1 cup celery diced
2 14 1/2 oz cans of petite diced tomatoes
1 14 1/2 oz can red kidney beans
1 14 1/2 oz can white beans like northern or navy
5 1/2 cups of beef broth 2 tsp oregano
1 1/2 tsp ground black pepper
1 T parsley
1 tsp Tabasco sauce
32 oz spaghetti sauce
4 oz dry ditalini or small shell pasta
Instructions:
Saute beef in 1/4 cup water in a large pot until the beef starts to brown. Drain. Add 1/4 cup water, onions, carrots, celery and tomatoes and simmer for about 10 minutes. Drain and rinse beans and add to pot. Add beef broth, oregano, pepper, parsley, tabasco, spaghetti sauce and noodles. Simmer until carrots and celery are tender or about 45 minutes.
This makes about 5 qts of soup or 12 servings.
Make one day ahead for the best flavor
. Can freeze!
Happy nesting! (Does this count as nesting??? I feel like it does!)