Italian food. I would eat it everyday if it were up to me! Unfortunately, Andy doesn't appreciate the finer things in life. Like pasta. Or Veggies. Definitely not the two combined. So while I thought this recipe was delicious and I would definitely eat it again, he only had a "no thank you" portion and didn't even eat all of that. Bummer. Because it really was delicious!


I followed
this recipe
that I found on Pinterest, although I believe the original recipe may be from
this site
. This beautiful photo pulled me in... I could not resist!
So beautiful. So pasta-y.
I would, however, make a few changes
when
I make it again.
Note to Andy, if you're reading this, I do plan on making it again!
Ingredients:
1 Tbsp olive oil
1 small onion - (I elect to use only 1/2 an onion)
2 cloves garlic
1 (15 oz.) can diced tomatoes
½ tsp dried oregano
½ tsp dried basil
pinch red pepper flakes (optional) Side note: definitely NOT optional in my household! I put red pepper flakes in everything.

freshly cracked pepper to taste
½ tsp salt
2 Tbsp tomato paste
2 oz. cream cheese
¼ cup grated Parmesan (Get a little extra to add on top when finished!)
½ lb. penne pasta
½ (9 oz.) bag fresh spinach - (Use ALL the spinach! It's super healthy for you.)
Instructions:
Cook the penne pasta - penne was a great choice for this recipe as it holds the sauce super well! I always go a little heavy on the pasta, just because! I probably would use about 3/4 of the box instead of 1/2.

The original recipe calls for you to dice the onion. Next time I will puree it in my Ninja food processor - I freakin' love that thing! I found the chunks of diced onion just didn't quite do it for me in the recipe but I still want the flavor. So puree your onion (I also would only use 1/2 an onion) and mince your garlic. Cook in olive oil in a skillet for a few minutes until it is aromatic.

Add the diced tomatoes (with juices), oregano, basil, red pepper flakes, salt, and some freshly cracked pepper to the skillet with the onions and garlic. Stir to combine. Add the tomato paste and a ½ cup of water to the skillet and stir until the tomato paste is dissolved into the sauce. (I wouldn't change a thing to this step - the flavors were perfect!)

Turn the heat down to low. Stir the cream cheese into the tomato sauce. Stir the sauce until the cream cheese has fully melted in and the sauce is creamy. Add the Parmesan cheese to the mixture and stir until fully dissolved and creamy. At this point, it is definitely okay to start drooling because you're almost done.

Add the fresh spinach (I plan on adding the whole bag next time because, why not? You have a full bag and it's so nutritious... seriously, why not?) and gently stir it into the sauce until it has wilted (3-5 minutes). Add the pasta and stir until it is well coated in the creamy tomato sauce.


The original recipe did not call for any additional Parmesan cheese added on top once served. I was appalled! I added some to mine and it was fantastic.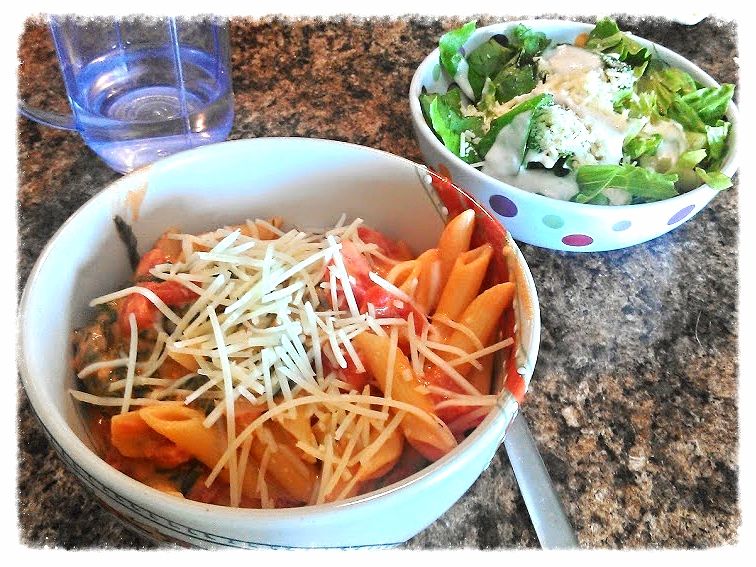 Finished product - served with a Caesar salad!
This recipe makes for excellent leftovers, too.
In case you never got the memo, I love leftovers.
Although I love to cook, I don't like to do it everyday. Primarily because of the dishes!