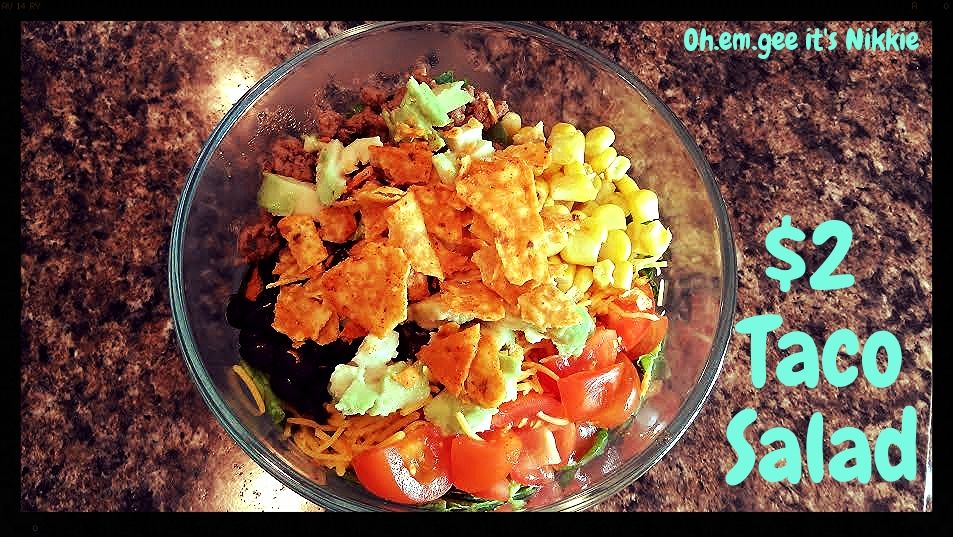 Don't forget to follow me on Pinterest for more recipes!
This is the most delicious taco salad you will ever enjoy. I promise. I loved taco salad before I came across this combination of ingredients but now I make this salad several times a month. Andy will even eat it. Willingly! And that says a lot.
Total cost of ingredients: $19.74
I don't usually spend that much money on one recipe, so let me explain. This is literally the BEST taco salad you will ever have! Just kidding, that's not all. I just wanted to make sure you heard me. This recipe will make 8-10 large portions. Andy and I will usually eat it for dinner 2 nights and then I will eat it all week long for lunches and STILL have some left over. Plus, some things like the cheese, Doritos and ranch will still have a good amount left to use toward other meals.
So in other words, it's about $1.97 - $2.46 a serving. Not bad at all.

Ingredients:
1 head of Romaine lettuce, chopped (1.58)
1 15 oz. can of whole kernel yellow corn, drained (.68)
1 15 oz can of black beans, drained and rinsed (.68)
1 cup shredded cheddar (or taco blend!) (2.64)
1 tomato or 1/2 pint of cherry tomatoes, diced (2.98)
1 lb ground turkey (3.34)
1 packet of taco seasoning (or make your own - it's much more delicious and cost-effective!) (0.00 since I make my own and have all the spices on hand)
1 avocado (1.18)
1 bag of Doritos (2.98)
1 jar of really good, creamy ranch dressing (Hidden Valley and store brands are no good for this recipe - splurge for the good stuff!) (3.68)
Makes 8-10 LARGE dinner-sized portions.
Instructions:
1. Cook ground turkey in a skillet until fully cooked. Add half a cup of water and your taco seasoning, let simmer until water is evaporated.
2. While the turkey is cooking, drain and rinse your black beans and corn. Chop your lettuce, rinse and dry in a salad spinner (what a nice, handy gadget that I didn't think I would ever use. Thank you to whoever gave that to me as a wedding gift!)
3. Layer all ingredients in a large salad bowl or on individual plates - Lettuce, corn, black beans, cheese, tomato, meat, avocado, crushed Doritos, ranch dressing - and you're done!
**Disclosure