Making your own baby food is
so easy
and
so cost-effective.
Especially if you have 2 little tiny mouths to feed. I knew from day 1 that I would be making my own baby food, since I love to cook, I love to be in control and I love food. You
pretty much can't go wrong
with your own baby food - you don't have to worry about product recalls because of bits of glass in the baby food (Gerber), pouches of fruits/veggies slick with moldy slime (Target brand pouches) or added salts, sugars, preservatives, cross contamination... the list literally goes
on and on and on and on and on.
Below is a list of foods that I have or will be making at home as single foods and then combining to make delicious and nutritious meals for the babes. They
already
have expansive palettes and they have yet to turn up their noses or purposely spit out any type of food. I like to think that this open-mindedness toward food will continue into their toddler and elementary school years.
I do not want to cook only macaroni and cheese and dinosaur shaped chicken nuggets for years to come...
looking at you, Andy, looking at you.
I
LOVE
Wholesome Baby Food
(click here to visit!)
for all things baby food. It has all topics - when to start, what to start, how much, how to cook, how to store... it's a great nutrition guide. Also, for you
foodies
out there,
this website
- Baby Foodie - has
AMAZING recipes
with pictures that may or may not have actually made me drool.
Over baby food.
Yep, that website is amazing.
If this doesn't make you want to make your own baby food, I don't know what will. Photo from Babyfoode.com
Here are some foods broken down by approximate times that you would introduce them to your baby...
Starter foods:
Avocado, Banana, Sweet Potato, Peas, Carrot, Applesauce, Pear, Butternut Squash, Pumpkin, Green Beans, Oatmeal, Brown Rice
We started these foods between 4-6 months. At first I introduced each food separately. After they had a few foods checked off the list, I started to combine them to make mini-meals. Now I start each meal with a base of oatmeal or rice and add cubes of additional foods. The oatmeal and rice help to stretch the foods as these little guys will
eat, eat, eat!
Recipes we love:
Tyler Florence's Roasted Banana and Brown Rice,
Frugal Edmonton Mama's Crockpot Applesauce
And Then There Were 5's "Apple Pie"
Blueberry and spinach puree was a hit!
Secondary foods:
Spinach, Blueberries, Mango, Beans, Peaches, Kale, Cantaloupe, Honeydew, Nectarines, Plums, Papaya, Beets
I've made a fair number of these foods into purees already and some I am still getting around to. I waited until 5+ months to try some of these foods due to strong flavors (spinach), cost (blueberries... those things are expensive even when they are in season! I recommend going with frozen ones), and textures (cantaloupe - thin, watery.) I also combine cubes of these foods with anything else that they have already eaten. Just today the boys chowed down on oatmeal, blueberry and spinach puree - and loved it!
Recipes we love:
Frugal Edmonton Mama's Crockpot Blueberries, Apple and Pears
Homekeeter's Pouch-Friendly Raspberry Applesauce with Beets and Greens
Redomestication's Sweet Potato, Apple and Corn Puree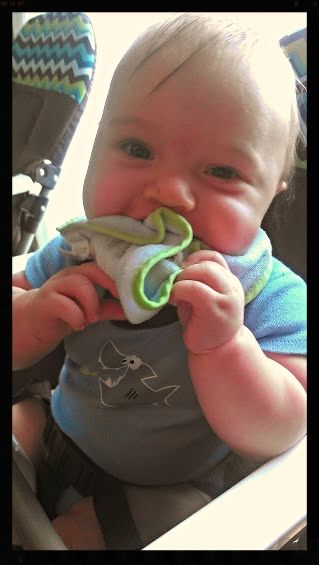 Food time is fun time!
Transitional foods:
Potato, Chicken, Ham, Turkey, Pineapple, Strawberry, Cauliflower, Broccoli
These foods I plan to hold off on until the boys are 6+ months, maybe a little longer. Broccoli and cauliflower have the tendency to cause gas -
and lots of it!
Potato is lacking in a lot of vitamins and nutrients;
I will always prefer sweet potato, anyway!
Pineapple is acidic. Strawberry is high on the list of potential allergenic foods and meats are generally recommended for older babies. I can't wait to start making these foods - but by then, we will almost be out of the puree stage, which is sad.
Why do they have to grow up so quickly???
Recipes we love:
Frugal Edmonton Mama's Crockpot Chicken and Butternut Squash
Camille Styles' Tropical Advocado Pudding
Once a Month Meals - Chicken, Pea, and Quinoa
As far as actually making the baby food goes -
use your imagination!
Most people will have the tools that they need at home already - stove/microwave, steamer, blender/food processor/Ninja, etc. Just make sure to keep everything clean, cook all food thoroughly (except avocado and banana), and to freeze or store in a timely manner. Have fun!