Meal planning: this is
oh.so.important
! Meal planning keeps me
somewhat sane
during the week and keeps me from wondering
"What's for dinner? Lunch? Do we even have any food?"
daily! On Sundays, I sit down and plan out a full week's worth of meals and make a comprehensive grocery list. I say comprehensive because I
CANNOT
forget anything. There is no such thing as a quick trip to the store for that forgotten item anymore... not with twin babies.
Does it sound overwhelming?
It's not
. It's actually
really easy
!
What if you're not hungry when you sit down to meal plan? Pinterest can fix that in
about 3 seconds.
I keep a running tab of recipes I've tried and like on
this board
on Pinterest so I can always refer to those if I am stuck in a rut in addition to those recipes that
you just know
- like the spaghetti and meatballs, grilled cheese, and chicken noodle soup-type recipes that everyone has stored in their brains somewhere. You know the ones.
Meal planning has saved me time, money, frustration...
you name it!
It's
totally
worth taking the time each Sunday to plan, grocery shop, and prepare meals for the week.
Here are some meal planning life-simplifying tips:
1.
Keep a running tab of recipes
that you can refer back to so that you are not constantly having to think of recipes. I utilize Pinterest for this, but you could go
old-school
and keep a notebook or folder, too!
2.
Pick a theme for the week.
Whatever it is, make sure that the ingredients overlap a bit so food is not going to waste and you don't have to do a full grocery shopping trip every week! A little variation in themed recipes can go a long way. Need themes?
Mexican
Italian
Chinese
Thai
Salads
Breakfast for Dinner
Vegetarian
Americana
There's 2 months worth of themed week ideas for you right there... You're welcome.
3.
Pick foods that re-heat well.
This is
especially important
for any lunches that you will be making ahead of time. Soups, pasta dishes, crock pot meals, casseroles, etc. all re-heat well! If it won't stay good in the fridge, find a way to freeze it. Almost anything can and should be frozen.
4.
Don't forget dessert.
I am so guilty of this one.
I never remember to make a dessert on Sunday and then I get hangry for dessert. You don't want to meet me when I'm hangry... I closely resemble someone in a Snickers commercial. Which makes for
one. grouchy. mama
.
Seriously, don't forget it!
5.
Plan to have meals with recipes that call for fresh foods earlier in the week.
So this means if you have the choice between scheduling a taco salad, tacos, or a crock pot burrito bowl recipe for Monday - go for the taco salad first!
Ain't nobody got time fo' limp salad
or not so crisp veggies due to poor meal planning!
Once you have a list of recipes that you want to make for the week,
WRITE IT OUT.
Your husband will stop asking you what you're planning for dinner.Your husband may even call you out on it when you want to get take out or have leftovers for dinner because
"WEREN'T WE SUPPOSED TO HAVE PIZZA POPPERS???"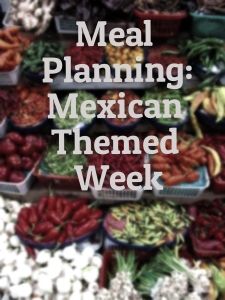 Stuck in a recipe rut? Here is a sample meal plan from this past week with links to the recipes (Again, you can thank me later!)
Mexican Themed Week
- all of these recipes have been
test-tasted and approved
by me... and Andy!
These recipes all call for the same handful of ingredients but they can be used in
so many different ways
, you won't even feel like you're eating the same thing all week! All of these recipes also make great leftovers -
I live off of leftovers
for lunches, so I would know.
A simple piece of paper works for my purposes of keeping track of what we're eating, but there are tons of meal planning print-ables on Pinterest! Maybe one day I will get crafty and make a bulletin board or something... ha. Me? Crafty? Nope. Nope nope nope.
What go-to recipes do you use? What are some meal planning tips that you use for your family? I'm interested to hear what works for you - and what doesn't!