Thought I said granola bars, right?
Nope.
Granola balls. I think they're better,
personally
. They're more moist than the bars and super
peanut-buttery and delicious
.
I read a recipe for these from
Baked in Arizona
and, of course, I had to alter it and make it my own. I now make these and/or homemade granola bars
every week
for Andy to take to work and me to snack on. They're good enough that I'm considering making a
TON
, freezing them, and giving them out as Christmas presents!
Who wouldn't love a homemade snack?
You can do whatever variety you want, but I usually make peanut butter chocolate chip. Doesn't get much less original than that, sorry. But I promise you won't be disappointed by them!
The main changes I made from the original recipe are to eliminate the ground flaxseed (I don't even know what it is, to be quite honest!) and to use less honey because that stuff is expensive!
Homemade Peanut Butter Chocolate Chip Granola BALLS
(Makes about 18)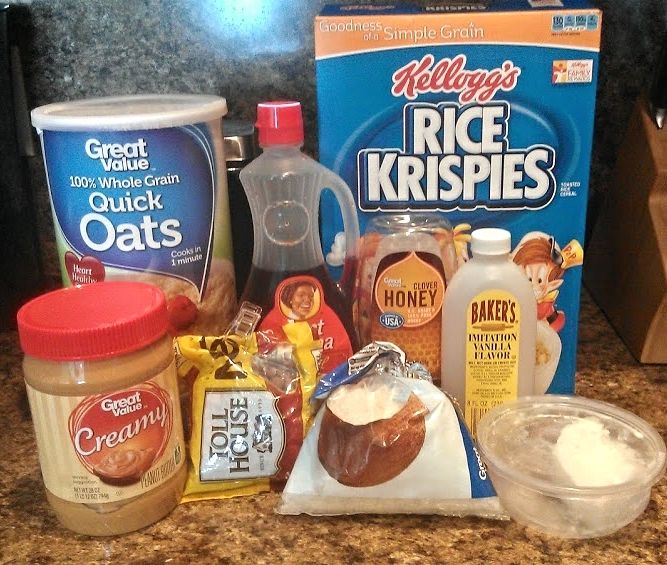 So easy, a caveman could do it. Did I just date myself?

Ingredients:
3 cups quick oats
1 cup crispy rice cereal
1/2 cup unsweetened shredded coconut
1 cup peanut butter
2 tsp vanilla extract
1/2 cup light maple syrup
A heavy drizzle (maybe 1/8 cup?) honey
1/2 cup mini chocolate chips
2 tbs coconut oil


Instructions:
Add all ingredients to a large mixing bowl. WASH YOUR HANDS. Mix all ingredients by hand until thoroughly combined. Roll into golf-ball sized balls. Refrigerate for 30 minutes. Wrap in saran wrap, store in air-tight container or stuff them all in your face immediately.

Eat responsibly.